Are you with an online bank yet?
You have probably seen it before.
I know I have.
Those articles about people switching to a different bank that offers a interest rate that is 400% higher.
It starts off with them talking about how they were with a major bank with low interest rates, found a different bank that offers a much higher rate, switched to it, and feel all hip and cool about it.
The thing is, they usually talk about one single individual bank.
For your reference, here is the list you need to check out if you haven't gotten one yet. The website is kept up-to-date so if you are seeing this post much later than when I posted it, refer to the website, not the image below.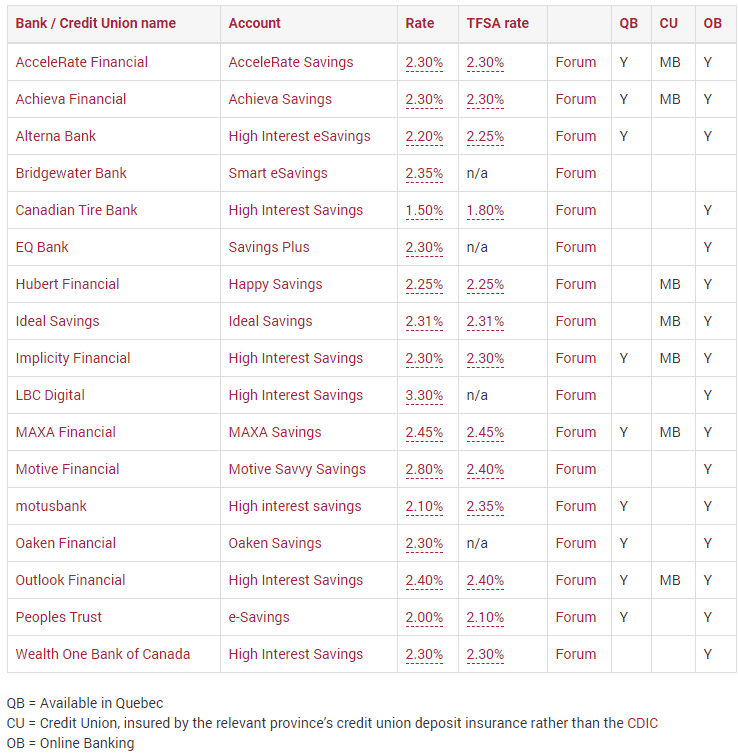 A bunch of these banks are online. That just means they don't have a physical branch that you can go to, but don't let that scare you.
I have been using 3 online banks (yes, 3 for 3 different purposes) for over a year now. And it's been great.
Let me go over the biggest problems that you may face when going with an online bank, and how to deal with them.
No in-person customer service
Online banks do not have brick-and-motor branches, meaning they don't have a physical location for you to go to. This may pose as a challenge to some people that are accustomed to the Big 6 banks, but it's not all that bad.
First, let me break down the two types of online banks
Day-to-day banks like Tangerine and Simplii. These banks offer chequing, savings, mortgage, investing accounts, line of credit, etc. They are basically the online replacement of a traditional brick-and-motor bank.
High-interest banks like EQ Bank and Alterna Bank. These banks may be lacking in their products and service, but they offer a high-interest on their savings account, making them an ideal place to park your savings.
In both of these banks, you will have to make a phone call if you need to talk to someone. It may sound daunting, I know. But in my experience I was always able to get the help I wanted without much trouble. In the case of Tangerine, you simply click a button on their website for an agent to call you when they are available. For Simplii, they will give you a callback if the call waiting time is too long.
For EQ Bank, I never had to wait for than 5 minutes. I have had times at RBC and BMO where I was waiting in line for over 10 minutes.
Huge cash withdrawals
I closed my traditional bank accounts and replaced it with online banks.
The only thing I lack now is that I can't make a huge cash withdrawal (ATM daily limit withdrawl is $500 for me). There's no way around this really.
I rarely need to withdraw thousands of dollars in cash. But if I do, I won't have a way to do it besides going to the ATM and withdrawing $500 everyday.
Huge cash transfers
Moving lots of money can be scary. You don't want anything to go wrong. A lot of people feel secure when seeing a teller help them in-person with this.
With an online bank, you can't see a teller in-person, but you can always call the bank's customer service and have someone walk you through the transfer from start to finish.
In my case with EQ Bank, I have learned how to move lump sums from a customer representative. It's dead-easy, and given their intuitive website design, you might not even need to call them to find out how.
Ok, those are the main challenges that I think people will face.
Now, let me break down the good stuff.
My story
I have been using Simplii to replace my traditional chequing account. I will sometimes move my savings there when they have their promotions.
I have been using EQ Bank for over a year now. I love it. I love their website, app, and the flat 2.3% rate. They are a trademark of Equitable Bank, founded in 1970.
I have also seen Alterna Bank ATM machines close to where I live, so I also have signed up for Alterna Bank. Their 2.25% TFSA rate is a great place to stash some savings, and their ATMs could come in handy if I need to make frequent ATM withdrawals. This depends on where you live / work though.
My advice to those who have not started
Choose one and make an account. You can do it from your phone and it takes 5 minutes. It's quick. It's easy. You don't need to deposit a single dollar if you don't want to. You could have an empty account. Creating the account is 50% of the journey.
I applied for a TFSA account at Alterna in 10 minutes. Got an approval the next day. Now I'm making 2.25% tax-free interest on my savings there.
My advice to those who are unsure of choosing an online bank
You might be with a big bank right now. You may have some cash, seen the disappointing interest rate at your bank, and want to do more with your money but aren't really sure about online banks. What if there's a problem? Who do you talk to? What if you get hacked? What if you need to talk to someone for service? What if you need to make a big transaction but don't know how?
My advice is to focus on your goal. What are your goals with your money? Don't you want to see it grow?
You are the driver. You can take it slow as you want. Just open an account. Deposit a dollar. Withdraw that dollar. See how the whole system works. Was it easy? Was it hard? Find out for yourself. Online banks (at least the ones I know of) do not charge any fees for opening an account.
My advice for those people is to start with Tangerine's new client offer. They usually always have a new client offer, where they give you a good promotional interest rate for your first 6 months. This will give you a taste of using an online chequing account, as well as making some sweet interest on your savings for the first 6 months.
Tangerine is a child company of Scotiabank. The company is reliable. Their customer service is great. And they frequently have other great promotions for TFSA, RRSP, or other borrowing solutions.
Remember, you are just dipping your feet in the water. Test it out, and if you don't like it, you can simply close the account and go back to the Big 6 banks.
If you aren't digging Tangerine, then check out Simplii. They are a CIBC subsidiary, with less promotions than Tangerine but are still reliable and have great customer service.
Hope this helps you! Happy banking :)