My weekends are productive, thanks to this
I open my eyes to see my studio filled with the glaring bright sunlight tearing in between my curtains.
It takes a couple of seconds to realize my alarm clock hasn't gone off yet… Or did I sleep through it? Shit.
I reach for my phone, asking myself "Did I miss it? Please please please."
8:02 AM.
Phew. Good.
I can still make it to the 10 AM meeting.
What 10 AM meeting? Well, it's not for work. It's a Saturday today.
A few months back, I stumbled across something that made me commit to being productive on weekends.
The commitment is real. I go to sleep on Friday night with the meeting in my mind.
Sleeping in on weekends, waking up to have a brunch? Bye bye~
This is something I really don't want to miss.
Because if I miss it, I will be letting myself down.
Focusmate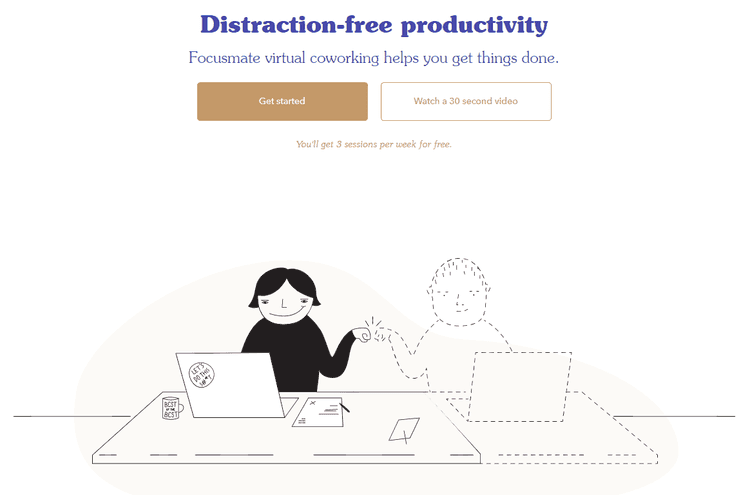 I was really skeptical when I first tried this, but I want to be open-minded and gave it a go couple months ago.
Now it's a part of my life.
Weekend mornings, I will open up my dashboard, click on the Play button, bringing up the video chat. After a briefing on what we are going to work on, both me and my "focusmate" get to work.
No chit-chat.
No networking.
Just a straight-up "Hi, how are you. I'm going to be working on [my online course / blog / research]. Good luck"
So simple.
Yet so effective.
I love it.
I drag the video chat window to a corner on my secondary monitor.
For the next 50 minutes, my focus is at an ultimate high. Time flies by. I get shit done.
Then the alarm rings, signaling that the session is over. Me and my focusmate exchange cordial bye-byes, and I am back to reality.
I take a moment to admire the work I got done. Not a bad start to my Saturday.
I schedule another session for Sunday at the same time, and move on with my day at a productive and alert state.
How does it work
Create an account
Book a session
Click the play button on the session at the time of meeting
Say hi, state what you are going to work on, then get to work!
---
Hopefully, you will find this as helpful as it was for me.
That's all. Happy focusing!